With over thirty different organizations on the Limestone campus to explore, we're confident you'll discover a satisfying balance of academics with personal, professional and spiritual growth.
Limestone University offers many opportunities for students to get involved in leadership programs, music or religious clubs, and academic organizations related to degree programs such as Criminal Justice, Science, Business, Psychology, and Social Work. Students can also contribute to The Candelabra, the student literary magazine of poems, essays, short stories, and art. Limestone University also encourages students to make their experiences truly their own experiences. If there isn't an organization/club that sparks your interest, create your own! The office of Student Activities will guide you through the process of creating a lasting impact on the campus through your addition of involvement opportunities.
Clubs/Organizations
Academic Honor Societies
Please reach out to your advisor for more information on specific prerequisites needed to join honor societies and visit the Student Handbook!
Alpa Chi National Academic Honor Society: Top 10% of the Junior and Senior classes
Alpha Psi Omega: Theater Honor Society
Alpha Phi Sigma: National Criminal Justice Honor Society
Delta Mu Delta: Business, Management, and Administration Honor Society
National Association for Music Education: Music Education Honor Society
Phi Alpha: National Social Work Honor Society
Phi Alpha Theta: History Honor Society
Phi Lambda Theta: Education Honor Society
Academic Organizations
Please visit the Student Handbook for more information regarding each organization!
Criminal Justice Club
Educator's Rising
Health Care Executive Student Association
Pre-Health Professions Club
Psychology Club
Saints Athletic Training Association
Saints Investment Club
Sports Management Society
STEAM Organization
Student Social Work Organization
Student Managed Investment Fund
The Candelabra
Performance Organizations
Please email the following faculty members to request information on how to join one of our Performance Organizations!
Dr. Poovey, Professor of Vocal/Choral Music Education (gpoovey@limestone.edu)
Limestone University and Community Chorus
Vocal Ensemble
Spencer Nance, Director of Athletic Bands & Jazz Studies (sjnance@limeston.edu)
The Marching Saints (Marching Band)
Jazz Ensemble/Combos
James Robinson, Assistant Director of Athletic Bands & Instrumental Music
Wind Ensemble (Concert Band)
Pep Band (Athletics Band)
Steel Pan Band (Steel Drum Ensemble)
Rachel Hynes, Assistant Professor of Theatre/Director of Theatre (rhhynes@limestone.edu)
Limestone University Theater
Faith-Based Community Organizations
Please visit the Student Handbook for more information regarding each organization! Contact our Limestone University Chaplain, Tom LeGrand (tslegrand@limestone.edu) to learn more about how to get involved!
Fellowship of Christain Athletes
Student Organizations
Please visit the Student Handbook for more information regarding each organization!
Don't see one that interests you? Create your own!
Contact Director of Student Activities, McKenzie Hite (mnhite@limestone.edu) to learn more about our current organizations, how to start your own, and how to get involved!
American Sign Language Club
Barbell Club Chess Club
Gaming Club
HAUS of Art
International Club
Limestone Activities Board
OneRock
Student Athletic Advisory Committee
Student Government Association
Chess Club
Morgan's Message
Pool Club
Student Activities
The Office of Student Activities, Limestone Activities Board (LAB), and all of our Student Organizations keep the campus culture vibrant and fun by hosting events and activities throughout the year.
Limestone Activities Board (LAB)
The Limestone Activities Board (LAB) consists of a board of Limestone Students who have a passion for being a part of their peer's college memories by creating memorable events and activities throughout the school year. From small weekly events such as karaoke nights to homecoming and concerts, LAB's mission is to create events for students by students.
Have an event idea? Let us know! Use this button to share your idea and your event dreams may come true!
Want to get involved with LAB beyond attending events? Use the button below to get involved with LAB and give us a try!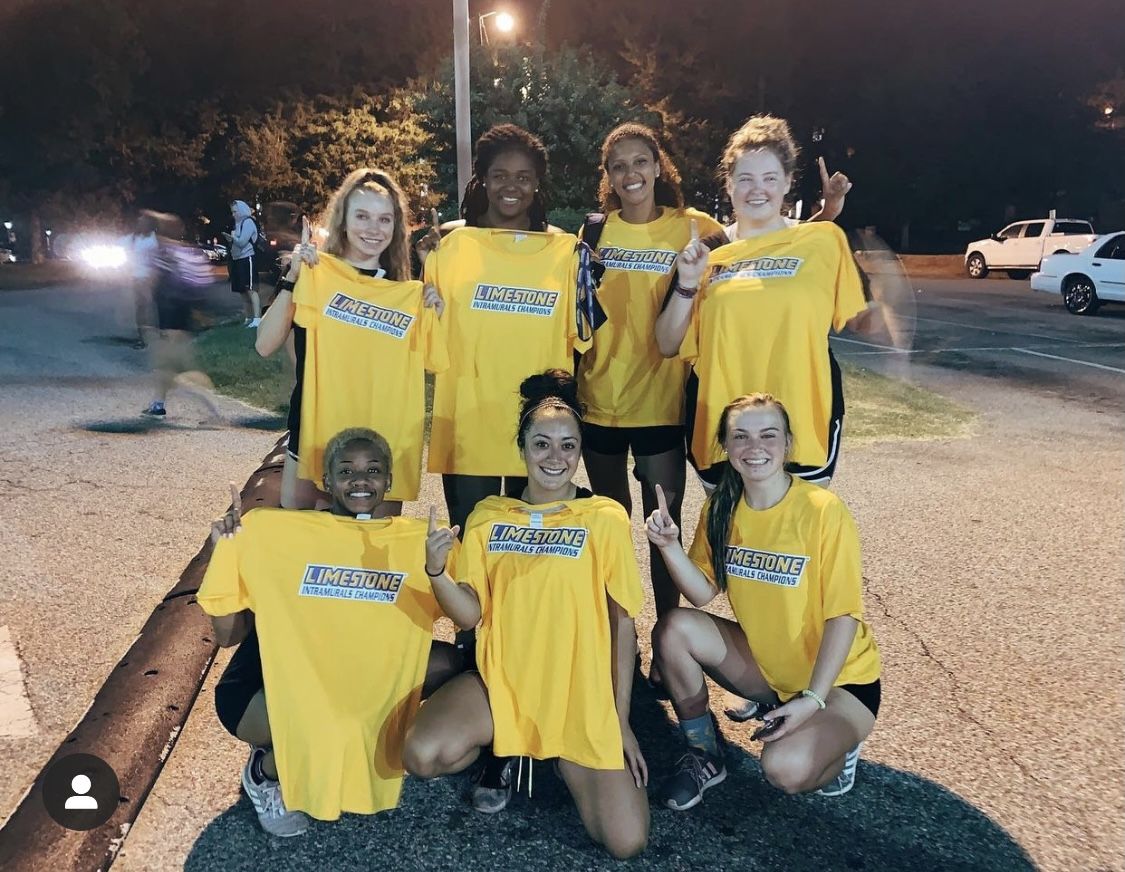 INTRAMURALS
Our Intramural Athletic Program uses the resources of Limestone University's excellent athletic complex: an indoor Olympic pool, eight lighted tennis courts with a tennis pavilion, baseball and softball fields, a jogging trail, and a soccer/lacrosse field.
The Intramural Sports program strives to provide quality experiences for all participants. By providing opportunities for organized sports and events, we believe that we can enrich the lives of Limestone students through quality co-curricular activities. Our goal is to offer both competitive and recreational services that emphasize sportsmanship, teamwork, and healthy lifestyles.
We hire, train, and supervise employees who promote the mission and values of our program and the Department of Campus Recreation. We expect our employees to treat participants in a respectful and courteous manner at all times. We believe in providing learning experiences as well as professional development opportunities for our employees, so that they may leave our program with transferable skills that will benefit them in the future.
Limestone University Intramural Sports Department will also host weekend getaway trips throughout the year. These trips will be free to current Limestone University students and on a first-come-first-served basis. Please pay attention to your email for more information regarding these trips.
What are the benefits of intramural activities for the students and campus?
Limestone Intramurals is open to all students, faculty/staff, and alumni. We try to benefit the entire campus at Limestone University and welcome the campus community to be a part of our activities and space.
Intramurals are an amazing stress reliever. Stressed about an upcoming exam? That group project? How about your computer that just can't seem to print? Running around with a bunch of friends can do wonders for reducing your stress level.
They provide great exercise. While most college students would like to go to the gym on a regular basis, few actually do. With a predetermined time already in your schedule, your workout is more likely to happen. In addition, you're less likely to miss your "workout" and the time will pass quicker than if you were alone in the gym.
They're a great way to meet people. You may be getting used to seeing similar people in the courses for your major, in your residence hall, or at the events you go to on campus. Intramurals can be a great way to meet students that you may not otherwise even run into on campus.
There can be leadership opportunities. Every team needs a captain, right? If you're looking to build your resume or test out your leadership skills, intramural teams can be a great place to start. Also, you can have a chance to be a part of the staff. We are always looking for new staff members and are also looking for referees. Build your resume and be a leader on and off the court or field.
It is one of the few things you'll do just for fun. Most things you'll do in college are very goal-directed: produce a paper, plan an event, or meet a deadline. Playing an intramural sport provides you with a great opportunity to head out and have some good, old-fashioned fun.
Intramural Sports Activities
8-Ball Pool
Basketball
Cornhole
Dodgeball
Flag Football
Man-Hunt
Ping-Pong
Sand Volleyball
Spikeball
Teqball
Yoga
Timken Center Hours
Monday - Friday: 10:00 am to 11:00 pm
Saturday: CLOSED
Sunday: 2:00 pm to 6:00 pm
Follow us on Instagram @limestone_studentactivities for updates on weather, in-game updates, events, and more.