We are excited that you have chosen to study at Limestone University. Those of us in the Division of Student Success and the Equity and Inclusion Office want to help make your transition to study in the United States a smooth one. Limestone University is committed to creating an inclusive environment for all students. This mission includes tending to the needs of our international students and making sure they feel welcome and included. So, please let us know how we can help you! In the meantime, here are some of the most frequently asked questions we get from prospective and current international students.
Who helps with international student support?
The Division of Students Success at Limestone provides a number of resources to empower students to achieve success in their academics and in life. You can find most of the Division of Student Success upstairs in the Hines & Riggins Student Center across from the library (Building 4 on the campus map). The Associate Provost for Student Success is Mrs. Stacey Mason.
One of the offices within the Division of Student Success is the Equity and Inclusion Office. This office located in the Fort Building (Building 15 on the campus map). The Equity and Inclusion Office is dedicated to providing equal opportunity and voice to all students.
International Student Support is part of the Equity and Inclusion Office and is housed in the International House (Building 47 on the campus map). My name is Dr. Jack Knipe, and I am the International Student Support Coordinator here at Limestone. You can call me "Jack," "Dr. Knipe," "Professor Knipe," or whatever you feel comfortable with. My parents moved to the United States from Scotland, and I lived in the U.K. for a while too. I have lived, studied, or conducted research in Scotland, England, South Africa, Argentina, Guatemala, Iceland, Iraq, and New Zealand. I have also traveled to a number of other countries. I understand some of the difficulties that come with living or studying outside your home country, and so I am here to help make your transition as easy as possible. I welcome any questions you may have and can be reached at jknipe@limestone.edu. I hope to keep this page up-to-date and useful for current and prospective students alike. If you ever think of something you wish you had known before coming, or something you would like to know about Limestone, Gaffney, South Carolina, or the United States, please let me know so I can keep this page relevant!
There are many others who work on our team and provide free services such as tutoring, help with English, and much more! We have a great team and are here to help in any way we can! Just let us know what you need!
What specific services does the International Student Support Coordinator Provide?
I help connect you to the right people on campus to answer questions you have about issues such as:
I help connect you to resources on campus such as:
I help you navigate the logistics of living in the United States such as:
Opening a bank account
Getting a phone/phone number
Getting a driver's license
Getting a social security card to work on campus
What should I know before coming to Campus?
Getting to Limestone is pretty straightforward. Most students fly into either Greenville-Spartanburg (Airport Code GSP), Charlotte (Airport Code CLT), or Atlanta (Airport Code ATL). GSP only about a 35-minute drive from campus, CLT is just over an hour, and ATL about 3 hours. Check prices, but on average, CLT is the airport most students fly in. You will have to secure a ride from the airport to campus as there is no public transportation that goes to Limestone. Students who are on sports teams often coordinate rides with their coaches or get rides from teammates.
As you may have already seen in other tabs, the weather in Gaffney can be quite diverse. Plan on packing clothing, sheets, and blankets for cold weather and hot weather. Limestone is over 4 miles (7km) from a large outlet mall that features stores like Nike and Adidas, and about 3 miles (5km) from a Walmart, a large store that stocks everything from clothing and furniture to groceries. If you get stuck and need clothes, you can find things there at discount prices. The cost of sheets for a twin mattress ranges from $10.00 (USD)to $30.00 (USD). We do have a closet on campus with some donated clothing as well as a pantry that is fully stocked with food (e.g., Ramen, peanut butter, cereal), personal items (e.g., laundry detergent, feminine products, deodorant), and more just in case you have needs and are unable to get to a store.
Plugs in the United States are either Type A or Type B. You'll want to make sure you bring an adaptor to be able to plug in any electrical appliances you have if your country does not use Type A or Type B. Although the International Student Support Coordinator has some adaptors to loan students in a bind, you might want to remember to bring a couple.
What is the food like in the United States?
Most students eat in the cafeteria (i.e., 'the caf'). The cafeteria offers a variety of foods during each meal to cater to the various tastes of students. You can check the hours and menus daily by clicking here. Some students choose to go off campus on occasion.
Food in the United States is probably much different from what you're used to. Although you can sometimes find restaurants between Greenville and Charlotte that specialize in international cuisine, vendors often use ingredients that are easier to find in the United States. Do not be surprised if a dish you are used to in your home country tastes much different here. There are a number of international restaurants within driving distance. There are restaurants in Charlotte, Spartanburg, Columbia, and Greenville that showcase food from Jamaica, Afghanistan, Greece, Nigeria, Mexico, Italy, France, Spain, Japan, China, Lebanon, Iran, Egypt, Reach out to the International Student Support Coordinator Dr. Jack Knipe (jknipe@limestone.edu) if there's a specific food you're looking for.
The Publix in Spartanburg does have an international aisle that includes snacks and other foods from Germany, Israel, the U.K., Mexico, Thailand, and China. World Market in Greenville sells foods from around the world. Though their stock varies from month to month, they usually have candy and snacks from Asia, Scandinavia, Great Britain, Western Europe, Australia, and Mediterranean Europe.
Are there churches or worship centers for my religion in the area?
There are many churches in the area. Most of the churches in the Gaffney area are Evangelical Protestant churches (e.g., Baptist, Methodist, Lutheran, Presbyterian) with the largest denomination being Southern Baptist. There are Unitarian Universalist churches, Greek Orthodox churches, Catholic churches, Islamic Centers and mosques, Buddhist centers and temples, Hindu temples, Bahá'í centers, synagogues, and more, including churches that deliver sermons and masses in other languages (e.g., Greek, Ukrainian, Spanish) all within an hour of campus. Feel free to reach out to Dr. Jack Knipe (jknipe@limestone.edu) or the campus chaplain Dr. Tom LeGrand (tslegrand@limestone.edu) for more information about specifics.  
Are there other people from my country near Limestone?
The Upstate of South Carolina is very diverse. The BMW manufacturing headquarters (German) for the United States is in Greenville as is the Michelin (France) headquarters. These are just two of the international companies that have made South Carolina home. There is an organization in Greenville that is dedicated to supporting international exchange in the Upstate of South Carolina. They can often connect you with someone from your home area. Find out more here. The Hispanic Alliance of the Upstate (see here) is another great place to connect with Hispanics in the area.
Where is Limestone?
Limestone University is located in the Southeastern United States – half way between New York City and Miami (about 11 hours to each by car)
We are in South Carolina – a state that is about the same size and population as Scotland (Just over 5 million people living in around 80,000km2)
The town of Gaffney is in the northwestern corner of the state, known as the Upstate, and not far from the border of North Carolina
Gaffney is a small city (around 13,000 people) with some things to do (e.g., a café, some restaurants and shopping, a cinema), but admittedly most of our students travel farther afield to find activities. Spartanburg is about half an hour by car and is slightly bigger. Greenville, a medium-sized city, is about an hour away and has a lot to offer. Charlotte is also about an hour away and is a big city.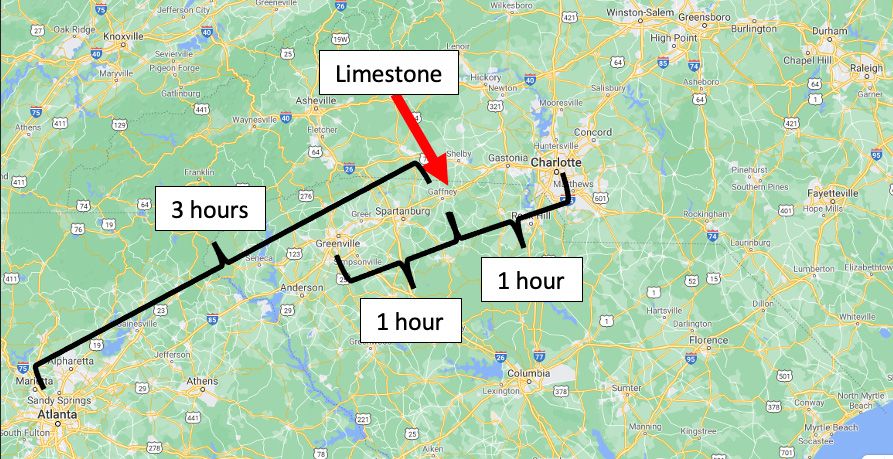 What is the college like?
Limestone's campus is relatively small and compact as you can see on the map here. This small size allows students to get around campus relatively easily without a car. You can walk from my office (number 47 on the map) to the cafeteria (number 19 on the map) in a matter of minutes. As the college was founded in 1845, many of the buildings are older and charming. Other buildings, like the Hines & Riggins Student Center, are brand new, and many of our students spend a lot of time there. This building features the Division of Student Success and its related offices, the campus post office, the campus library, Café 1845 (serving Starbucks coffee), a Freshëns Fresh Food Kitchen, as well as plenty of seating, pool tables, and table games.
As class sizes are pretty small, students often comment that there is a family-like atmosphere on campus. Faculty, staff, and students all get to know each other well. It's not uncommon for faculty and staff members to spend time with students outside of class – eating together in the cafeteria, for example.
Limestone is also very diverse. We have faculty, staff, and students from all backgrounds and walks of life. Some have disabilities, some identify as LGBTQ+, and some are the first in their families to go to college. About 10% of our students are international. Nearly 46% of our students are White and 43% are Black. About 5% are Hispanic or Latino, while the rest identify as Asian, American Indian (i.e., Native American), Hawaiian or Pacific Islander, or two or more races. This diversity has added greatly to the culture of Limestone overall. Although about 75% of our students are student athletes and very active and busy with their sport, we have a number of other campus activities and organizations that students can get involved in.
Whether you're a native speaker of English or learned it in school, please be aware that many people on campus speak different varieties of English than you might be accustomed to. As Limestone University is located in the Southeastern United States, many faculty, staff, and students speak a very specific variety of English that you might struggle to understand at first. For example, words like "mile" and "smile" might sound more like "mahl" and "smahl." They might use words you haven't heard before. For example, a shopping cart (i.e., 'trolley' in the UK) is often referred to as a "buggy" by locals in South Carolina.
There is another variety of English spoken a lot on campus known as African American English (AAE). This type of English has its roots among Black slaves in the Southeastern United States and has grammatical features that are different from the Standard Academic English that you probably learned in school. For example, "My girlfriend's mom is excited" might be heard as "My girlfriend mom excited." Again, do not be alarmed if it takes a while to understand this variety of English.
Your unique background and experiences will enrich our campus and you can learn a great deal from students who are not like you. Use your time at Limestone to grow and learn through social interaction just as much as you do in the classroom!
Is there public transportation?
You may come from countries where city busses, trains, and subways are a part of daily travel.
Some of the bigger cities in the United States do offer these forms of travel; Gaffney, however, is a smaller city and public transportation is limited.
There is a taxi service, but that's about where it ends.
Many students get rides from their teammates or classmates. Some eventually buy cars to get around.
What is the weather like?
The weather in Gaffney varies throughout the year and the temperatures changes can be quite drastic. In the summertime, the average high is 89°F (32°C) and in the winter the average low is 34°F (1°C). Of course, the temperatures get below freezing and it's not uncommon to get a snow storm in the winter. While it's common for hurricanes to come through or near Limestone early in the fall semester, our inland location reduces much of the effects. Coastal cities like Charleston and Myrtle Beach are more likely to experience severe damage than Gaffney. Find out more about specifics here. Note that the weather is listed in Fahrenheit.
What is health insurance and why am I required to purchase it?
Many, but not all, of our international students come from countries that have a socialized healthcare system. This means that you pay little to nothing when you go to the doctor's office, have a surgery, or see a specialist. Currently, the United States does not have such a system. Most people in the United States either purchase a health insurance plan or get one as part of their salary package with their job. Each month, you or your employer pay a "premium" or a monthly payment to the insurance company. With health insurance, you usually have to pay a "copay" when you visit a doctor. The insurance pays the rest. Different insurance companies offer different benefits. Some pay large portions of visits and services, while some require you pay a larger "deductible" before they pay anything. As we cannot guarantee the type of coverage our students have when they arrive at Limestone, all students are required to pay for health insurance while they are students. Limestone does not make any money in this process. However, we want to be sure that if our students should have any health emergencies while on campus, they will not suffer any large debts.
Limestone does take both the physical and mental health of our students seriously. In fact, we have many free services on campus that do not require any payment. Please read more about health services here and counseling services here.
How do I open a bank account?
International students may want to open a U.S. bank account while they are students. If you are working on campus, this makes it easier to cash checks or use direct deposit. Some banks even allow your parents or loved ones back home deposit money in your U.S. bank account through an app called Zelle. You are welcome to use any bank in the U.S., and there are advantages and disadvantages with each. Most of our international students in the past have had success with the Wells Fargo Bank. It is just over 1.5 miles (2.4km) from campus and has branches across the country. Find out more about opening a bank account by clicking here.
Can I work while I'm a student?
Students who are on an F1 Visa are only allowed to work on-campus jobs in the United States. Jobs for international students at Limestone are very limited. Several domestic students on campus have work-study jobs that are paid for by the federal government through the Financial Aid Office and, unfortunately, international students are not eligible for those jobs. However, there are some jobs on campus that Limestone University international students can do. 
Do I need to get a social security number and how do I get one?
In order to work on campus at Limestone, students need to have a social security number. This is the number the United States government uses to take taxes out of your wages. If you are interested in working on campus during your time at Limestone, you should follow steps 1-3 below. At the beginning of each semester, I will send out an email to students who are interested in working on campus during their time at Limestone. For students who respond by the deadline, I will schedule a meeting with the Social Security Office in Spartanburg (about 30 minutes from Limestone) and I will take them to their appointments. These students should follow Students who go with me will only need to follow steps 2 below.
Gather the following documents and make SURE you have them printed for your appointment. They MUST be printed.
a. Your application. Go to this website (here) and fill out the form. You only need to fill in page 5. Then print the form (all 5 pages). 
b. Your passport.
c. Your I-20 form
d. Your I-94 form. You can find that here. Go to "Get Most Recent I-94 Form" and enter your name and passport information. Print your form. 
e. Your letter from Mrs. Patti Lankford saying that you will be working on campus. You should contact her at plankford@limestone.edu to request this letter. Be sure to tell her who you are, what your major is, and what your gender pronouns are (e.g., he/him, she/her) so she can write the appropriate letter for the appointment. Be sure you email her at least 2 days before your appointment.
See if you can secure a ride. Many students get rides from teammates or their coaches. You will typically want to give yourself about 45 minutes to get there as the drive is 30 minutes long and you will need time for parking. The appointment usually takes about 15 minutes.
Do I need to file a tax return and what is it?
If you work on campus, the government takes out taxes from your paycheck. Sometimes, the tax they take out is an estimate of how much you actually owe. At the beginning of each calendar year (by April 15th), students who have worked are required to file a tax return with the Internal Revenue Service (IRS). This involves filling out paper work to show how much you earned and how much they took out. Usually, you find that they took out extra and you will get that money back! You must file taxes for the federal government AND the state of South Carolina as both take taxes out of your paycheck. Most international students use Sprintax to file their taxes. You can find out more information by clicking here.
If you are an international student who was in the U.S. and did NOT work on campus, you are required to file a Non-Employed 8843 Form found here.