Mail Delivery
U.S. Postal Services (USPS): Limestone Mail Center provides mail processing and delivery for students who live on campus. Generally, mail arrives at the Mail Center between 1 p.m.- 2 p.m. each day, Monday through Friday. Outgoing mail can be sent out from the Student Mail Center.  U.S. Postal stamps may be purchased, and packages mailed at any time during normal business hours, on a cash-only basis.
Receiving Mail & Packages
Smart Lockers
The Limestone University Campus Mail Center is located in the Hines & Riggins Center. The Mail Center uses a Smart Locker system for student packages and mail. Students do not have a specific mailbox number for receiving mail. All incoming packages and mail will need to be addressed in this manner:  
Student name
Limestone University
1115 College Drive
Gaffney, SC 29340
Amazon Prime Delivery will require a different shipping address.  The physical location of the Mail Center is required for this carrier. Please use this address for all Amazon orders:
 
Student's Name 
535 Quarry Drive
Limestone Univ/ Hines & Riggins Center
Gaffney, SC  29340
Amazon orders should also include specific delivery instructions for a business. Simply follow the prompts on the Amazon order site to specify the day and time for the mail center hours of operation. This will help ensure that all packages from Amazon are delivered properly to the Limestone Mail Center.
 
When packages and mail are received by the Mail Center, they will be scanned and placed in a Smart Locker for pickup. The student will receive a message through their Limestone email account with a QR code that will be scanned at the kiosk, which is located within the locker bank on the first floor of the Hines & Riggins Center. Once the QR code is scanned, the locker door that contains the packages and/or mail will open, and the student can retrieve the contents. The process will work the same as Amazon, Walmart, or other similar Smart Locker package pickup systems. This method will give students convenient access to package and mail pickup, instead of being limited to Mail Center hours only. However, there will be a time limit placed on the locker use. If packages and/or mail are not retrieved from the locker within 72 hours of receipt, the contents will be removed, and the student will then have to retrieve the items through the window at the Mail Center during regular operating hours. An email notification will be sent to the student if packages or mail are retrieved from a locker. Packages and mail retrieved from lockers will be held in the Mail Center for a two-week period. Items not picked up within that time frame will be returned to sender. 
Large packages that do not fit into one of the smart lockers will be held in the mail center and must be picked up in person during regular operating hours.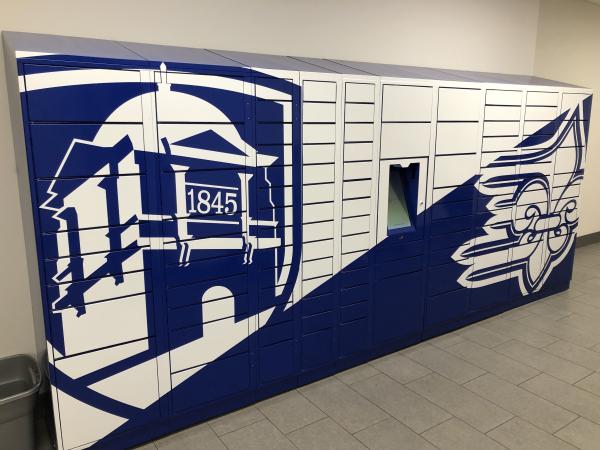 Mail Center Operating Hours:  
Monday-Thursday, 9 a.m. until 4:30 p.m.
Friday, 9 a.m. until 1 p.m.
Locker Access Hours:  
Sunday-Thursday, 6 a.m. until 12 a.m.   
Friday-Saturday, 6 a.m. until 2 a.m.
Sending A Package
USPS, FEDEX, and UPS packages with prepaid labels can be dropped off for pick-up by these services.
When mailing a package that requires postage, we are only able to accept cash payments.
Packages are picked up at 10 a.m. each day.
Packages can also be sent from the local Post Office as well as The UPS Store.  Both are located only a few miles from campus.
Inbound Mail
Make sure senders have your correct address and use your full name. Please do not use nicknames.
Outgoing mail
For the best possible service, please remember to address it properly:
Use full names (no nicknames)
Provide a delivery address and return address 
Use 2-letter state abbreviations.
Include zip code.
International mail should have country name in ALL CAPITALS on the last line.