Drop-in Writing Center Hours: Library 248
1:00 p.m.-2:00 p.m. Monday
12:00 p.m.-1:00 p.m. Tuesday
11:00 a.m.-12:00 p.m. Wednesday
11:00 a.m.-12:00 p.m. Thursday
The Limestone University Writing Center Online is also available. It offers live peer tutorial sessions to all students. When you visit the Writing Center Online, you will engage in a real-time conversation with a writing tutor who will help you decide how to improve the writing assignment you are working to complete or revise. You will be able to meet the tutor online by using your computer, smartphone, or tablet.
The Writing Center Online uses a platform called Upswing to conduct online sessions. 
Please watch the following tutorial video to learn how to schedule an appointment, upload a document, and meet with a tutor online: 
How to Schedule Your Online Writing Center Appointment
To access Upswing, go to https://limestone.upswing.io
Click "Meet with a Tutor"  and then type "Writing Center" in the search bar.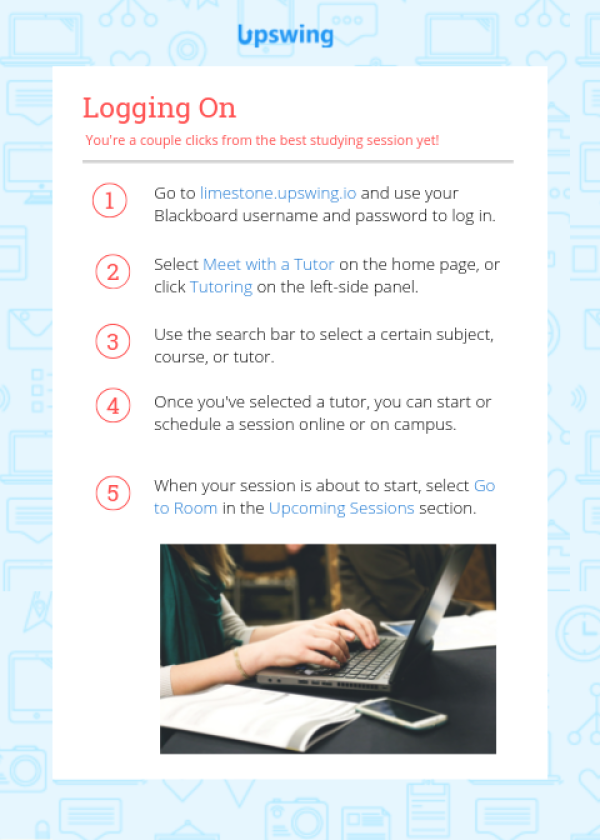 If you have any questions, please email jstubblefield@limestone.edu from your Limestone email account.  Please place the title "Writing Center Online" in the subject line of the email.
No-Show Policy
The writing tutors take appointments seriously. If you schedule an appointment to work with a writing tutor, online or in person, please come to the appointment at your scheduled time.

If a student does not show up for a scheduled session, the tutor will do the following:
10 minutes after the appointment was supposed to start, the tutor will email/ message the student.
The tutor will wait for 15 minutes; after 15 minutes, the tutor will leave/ log out.