Is singing, playing an instrument, or acting your passion? Limestone has it all. You may sing in the University Chorus, play in the Jazz Band, or audition for an upcoming production. Even if you simply have an appreciation for the performing arts, you can enjoy what Limestone has to offer.

Music
The Limestone University Department of Music provides entertainment for both campus and community events. Look through the list for the ensemble which best suits your musical taste and talent.
Vocal Performance Opportunities
University Chorus
Vocal Ensemble
For more information contact:
Gena E. Poovey, DMA
gpoovey@limestone.edu

Instrumental Performance Opportunities
Wind Ensemble
Percussion Ensemble
Winter Guard (Limestone Independent)
Brass Ensemble
Woodwind Ensemble
Jazz Ensemble
For more information contact:
Seth A. Taft, PhD
sataft@limestone.edu
If you are interested in more information about joining one of Limestone's music ensembles or the Marching Saints, please complete this form:
Scholarships
Scholarships and Activity Grants are obtained through an audition. Participation scholarships are available to music and non-music majors in various ensembles. Audition Dates for Entrance and Scholarship Consideration are scheduled on several dates throughout the year.
For more information, contact:
Joseph Earp, Director of Athletic Bands
864.300.3528 • jearp@limestone.edu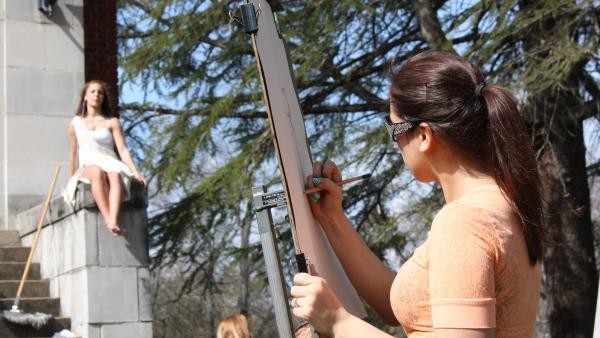 Art
Artists at Limestone University actively create and promote the arts through exhibits, field trips, demonstrations, and festivals on campus and in the community. These collaborative efforts include a wide variety of artistic media such as:
Crafts
Painting
Graphic Design
Printmaking
Drawing
Ceramics
Art History
Photography
For more information contact:
Brett Schenning
bschenning@limestone.edu
Theatre
Theatre opportunities at Limestone University provide rich, creative experiences for students as actors, stage managers, and technical crew members. Skills developed through theatrical activities enhance one's marketability in areas such as communications, publishing, marketing, and non-profit organizations.
Acting
Directing
Playwriting
Set/Costume/Lighting Design
Dramatic Criticism