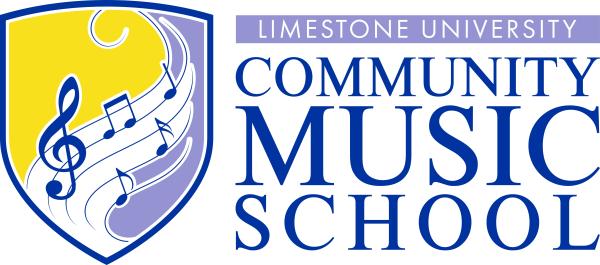 Be a Student
The Community Music School at Limestone University is committed to cultivating and promoting music appreciation in our community. Our mission is to enrich the lives of individuals by offering quality music instruction to people of all ages. Music education is the core of our program. Through private and group music lessons, opportunities for performance, and a college concert series, our goal is to contribute to the cultural life of the community that we serve. It is our mission to provide a positive and encouraging environment for all students and create learning experiences that foster and develop a lifelong love of music.  
Private lessons are available to students of all ages and abilities and will be offered in piano, voice, guitar, woodwinds, brass, percussion, and strings.  
All Community Music School lessons are held in the Carroll Fine Arts building on the campus of Limestone University (unless students are otherwise notified). 
Faculty are appointed from the Limestone University music faculty and other professional musicians in the area. In some instances, lessons may be offered by advanced Limestone University music majors.
Enrollment Fee
The Enrollment Fee is payment for the last two lessons. (Please review section 2 of the Limestone University Community Music School Studio Policies.)  
Two Ways to Pay: 
Pay by the Lesson
30-minute lessons are $25.00 when taught by a Professional Music Educator. 
30-minute lessons are $15.00 when taught by a Student Educator. 
Pay by the Month (four lessons per month)
Monthly 30-minute lessons taught by Professional Faculty are $100.00 
Monthly 30-minute lessons taught by Student Educators are $60.00 
The enrollment fee and monthly tuition are due at the first lesson. Tuition for succeeding months is to be paid at the first lesson of each month.
For more information about how to apply to be a student of the Community Music School, email Dr. Gena Poovey at gpoovey@limestone.edu
---
Be a Teacher
The Limestone University Community Music School is accepting applications for studio student teachers in the following areas:
Brass
Woodwinds
Percussion
Strings
Voice
Guitar
Requirements
Applicants must be a current college music major with 30 hours of college credit. 
Applicants must have with at least 14 hours of music credits with a minimum GPA of 3.0 in music classes. 
Applicants must have a recommendation from their applied instructor and one other recommendation. 
Compensation will be $24.00 per hour.  
Recommendations can be uploaded on the application form (apply online) or mailed to: 
Dr. Gena Poovey
Limestone University Community Music School
1115 College Drive
Gaffney, SC 29340